Purpose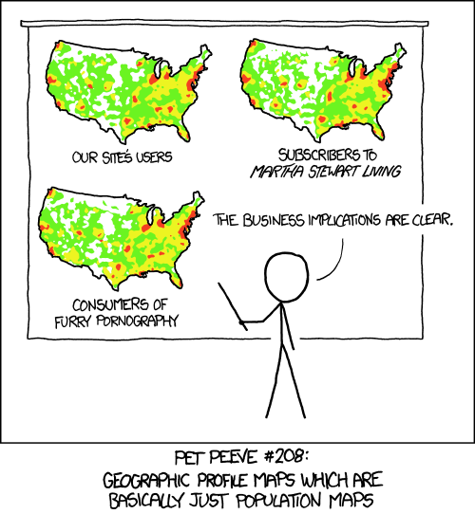 Map graphics communicate spatially distributed data
Quick map plots help identify spatial dependencies (exploratory data analysis)
Presenting results by administrative unit helps inform policy-making
Tying data to relatable landmarks builds compelling narratives
You will leave with:

High-level best practices for map graphics
Tools to begin making map graphics using the R language
Troubleshooting steps when you encounter problems
Agenda
What makes a good map graphic?
Mapping in R
Troubleshooting mapping in R
What makes a good map graphic?
Intuitive
Appropriate
Visually appealing
Intuitive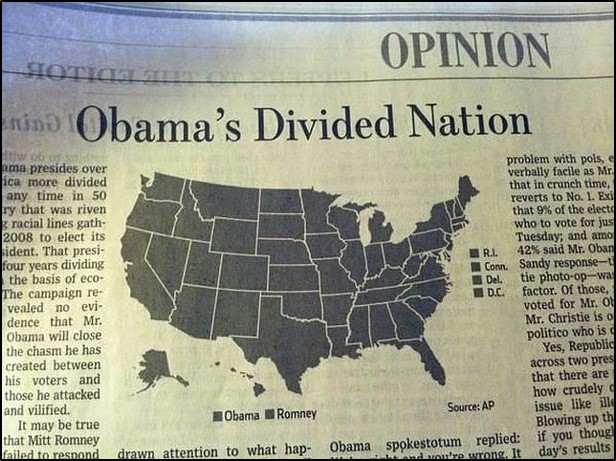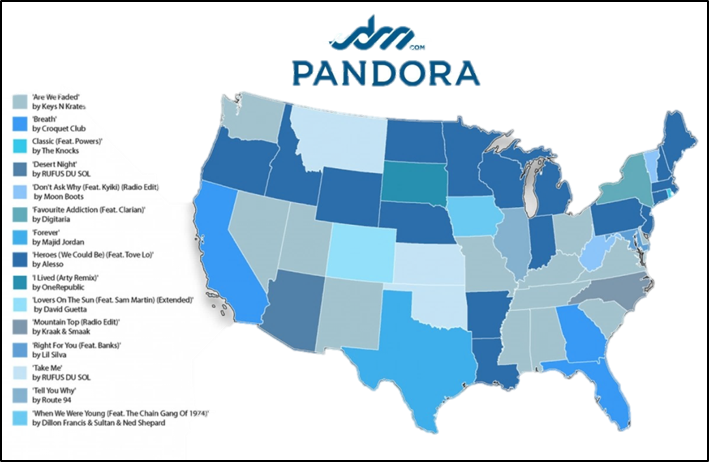 Appropriate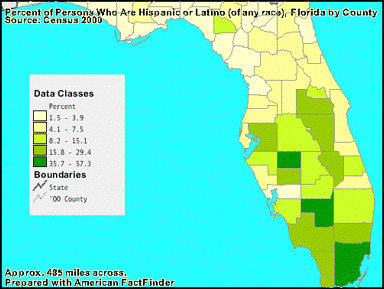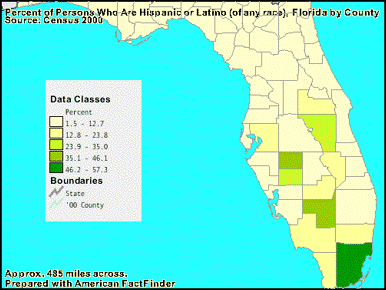 Visually Appealing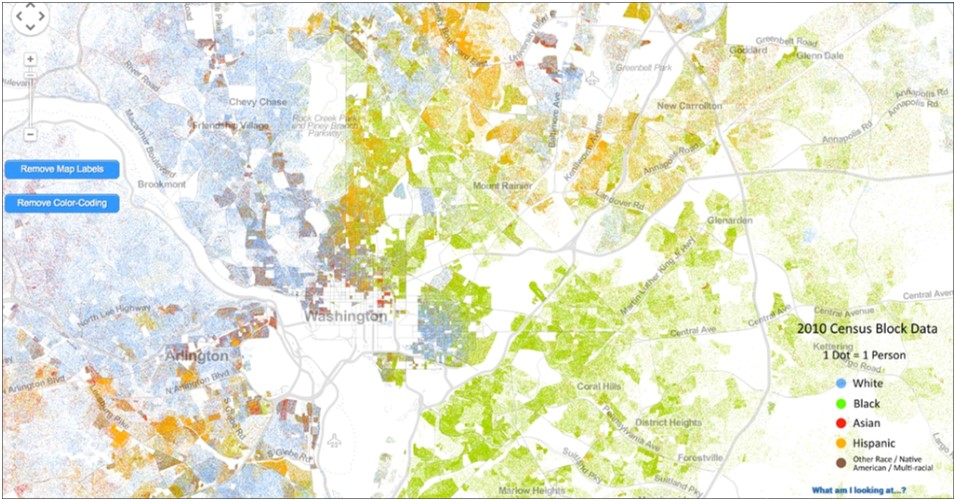 Mapping in R
Why R?
Your first map graphic
Raster and vector maps
Graphing over maps
Why R?
Free
Community supported
Attractive, informative, and fully reproducible graphics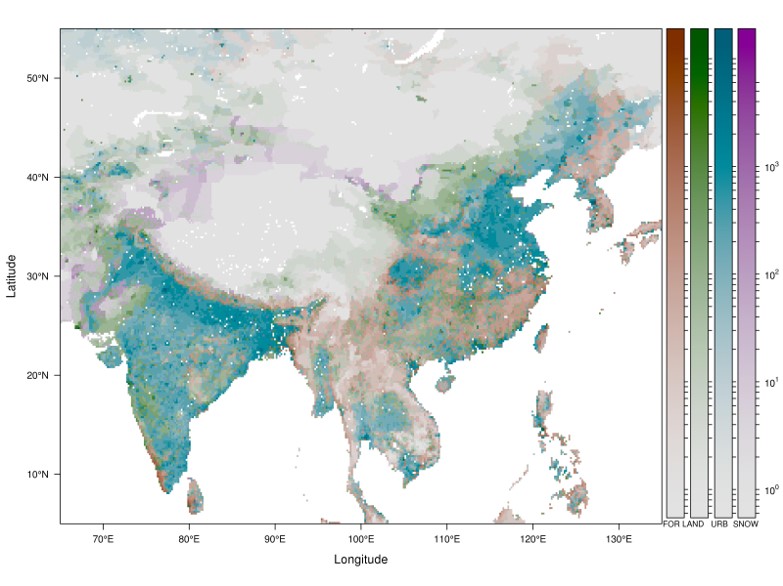 Why R.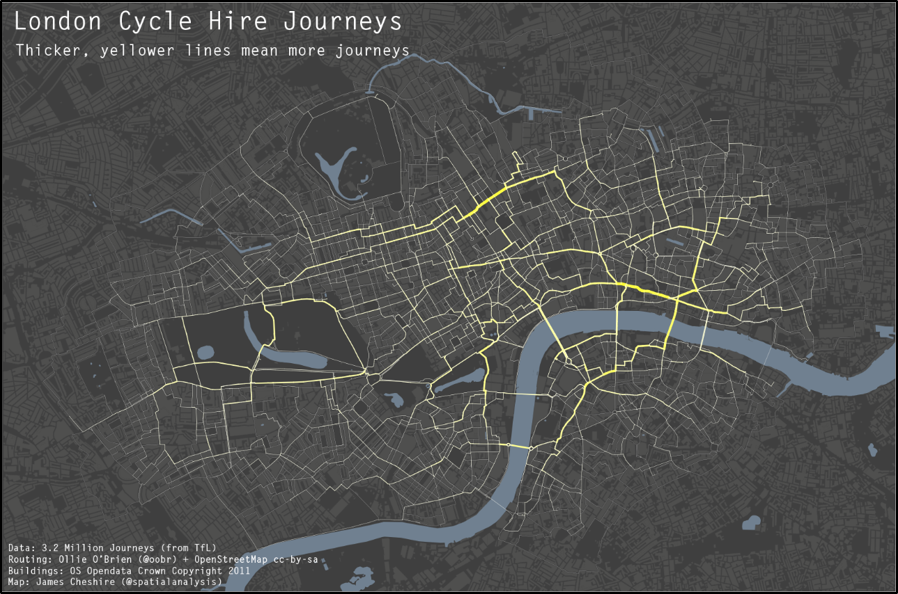 Your first map

qmap("601 New Jersey Ave NW, Washington, DC")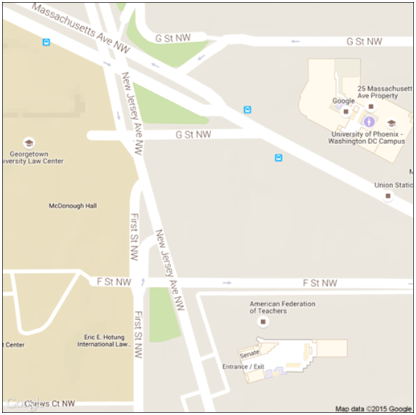 Your first map plot

eg <- data.frame(geocode(c("601 New Jersey Ave NW, Washington, DC",
                           "Union Station Metro, Washington, DC",
                           "Judiciary Square Metro, Washington, DC")))
qmplot(data = eg, x = lon, y = lat, zoom = 18, f = 1.1, size = I(3))
                    

Raster
A raster map is an image of a map
Appropriate for spatial point data
More attractive, more default options, less customizable
Vector
A vector map is composed of polygons
Appropriate for area-coded data
Customizable, flexible applications, less attractive for equivalent work
Raster maps from `ggmap()`

ggmap(get_map("601 New Jersey Ave NW, Washington, DC",
              zoom = 12, source = "stamen", maptype = ...)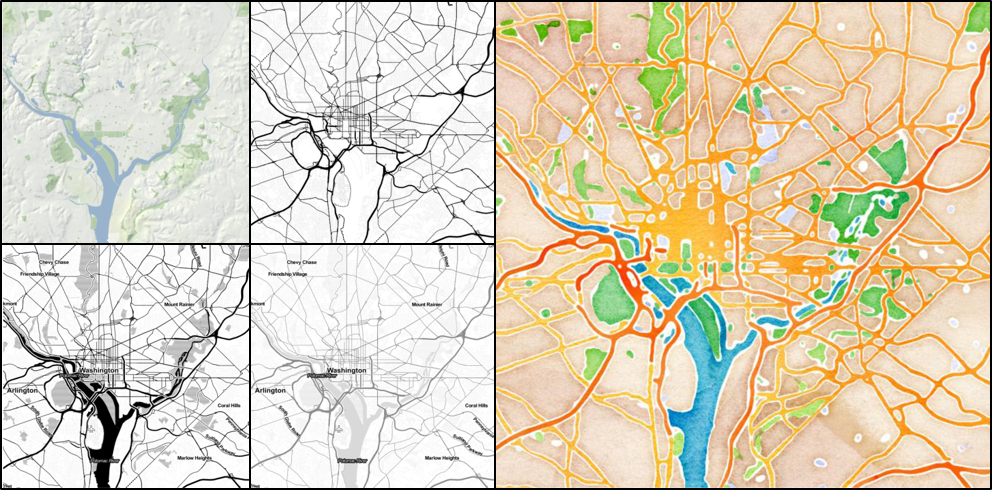 Vector maps from `maps`

map_data("world")
ggplot(world, aes(x = long, y = lat, group = group)) +
  geom_polygon(aes(fill = region), color = "black")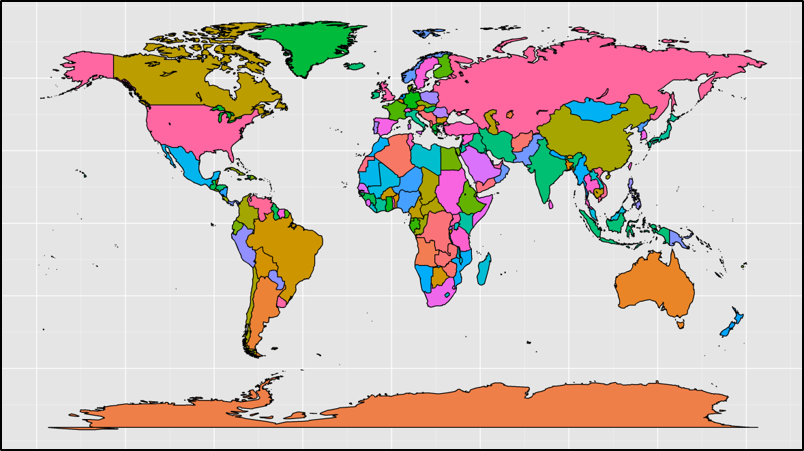 Vector maps from `maps`

map_data("world")
ggplot(world, aes(x = long, y = lat, group = group)) +
  geom_polygon(aes(fill = region), color = "black") +
  coord_map("ortho", orientation=c(41, -74, 0))
                    
Vector maps from shapefiles

usa <- readOGR(dsn = "Inputs", "cb_2014_us_county_500k")
usa@data$id = rownames(usa@data)
usa.points = fortify(usa, region = "id")
county = join(usa.points, usa@data, by = "id")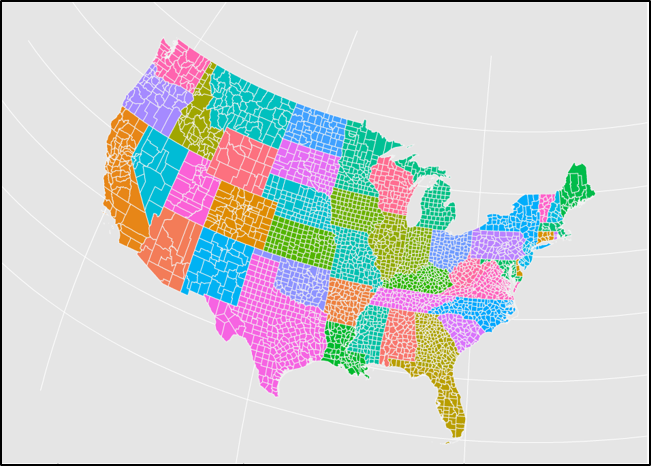 Mixing rasters and vectors

usa_raster <- get_map(bbox(county[,c("long", "lat")]),
                      maptype = "watercolor", zoom = 6)
ggmap(usa_raster, extent = "device",
      base_layer = ggplot(aes(x = long, y = lat, group = group),
                          data = county)) +
  geom_polygon(aes(fill = STATEFP, color = STATEFP), alpha = .3) +
  coord_map(projection = "mercator")
                        
Dot density

ggplot(aes(x = long, y = lat), data = states) +
  geom_polygon(aes(group = group), color = "grey95") +
  geom_point(aes(x = LON, y = LAT), color = "#2db6e8", alpha = .6,
             data = insured) +
  coord_map()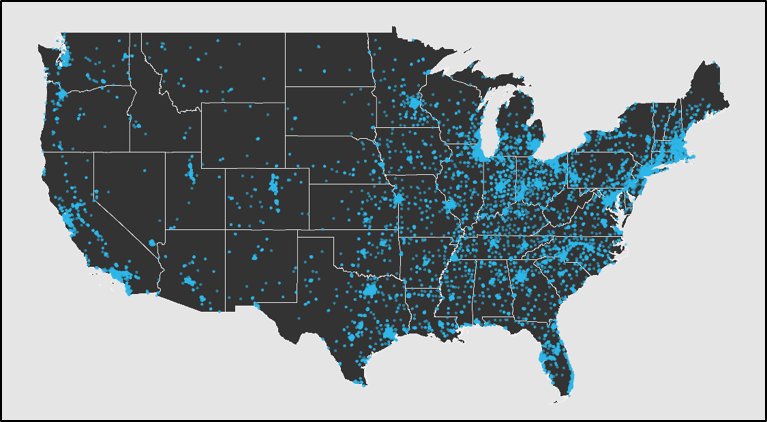 Graduated symbol

ggplot(aes(x = long, y = lat), data = states) +
  geom_polygon(aes(group = group), color = "grey95") +
  geom_point(aes(x = LON, y = LAT, size = Unit_Total), color = "grey85",
             data = cnty_count, shape = 21, fill = "#2db6e8") +
  coord_map()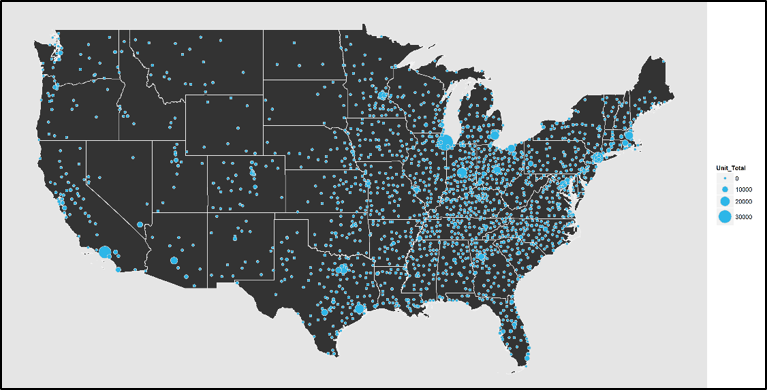 Choropleth

ggplot(aes(x = long, y = lat), data = county) +
  geom_polygon(aes(group = group, fill = Trouble)) +
  coord_map()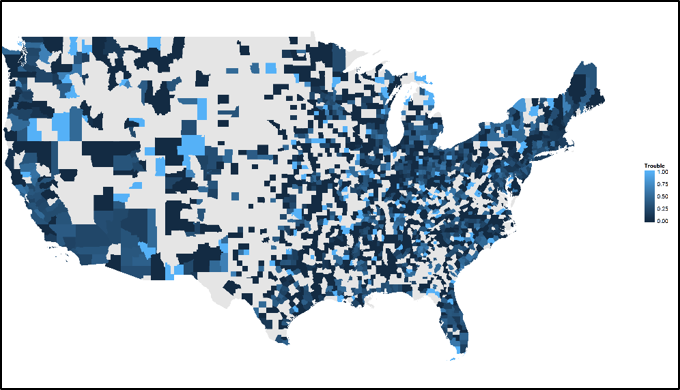 Isopleth

ggmap(dmv_map, base_layer =
        ggplot(aes(x = LON, y = LAT, fill = CLIENT_GROUP_TYPE),
               data = dmv_insured)) +
  stat_density2d(aes(alpha = ..level..), bins = 3, geom = "polygon")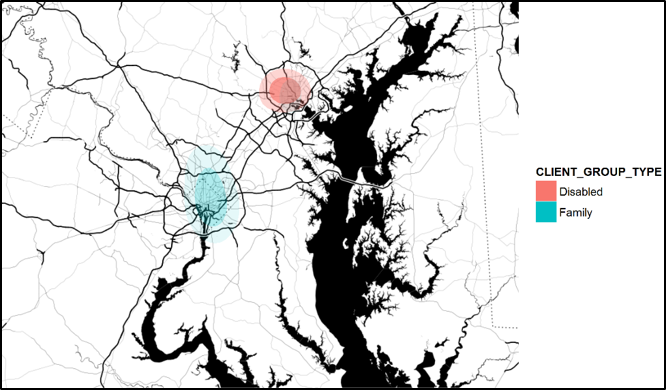 Troubleshooting
An example: JPS's problem
Local resources
Troubleshooting steps
JPS's Problem
Client presentation using geographic data
Want to highlight relative performance across states
Other mapping methods required proprietary software (SAS, ArcGIS), had limited customization (Excel), or required learning an entirely new open-source software on a short timeline (QGIS)
JPS's Problem
What the data look like: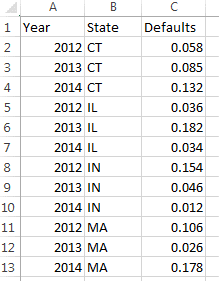 How we want the data to look: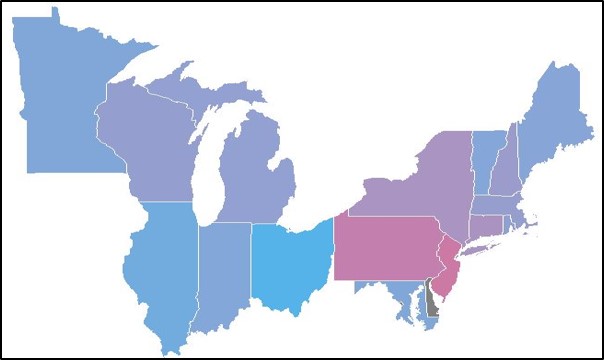 How the data looked after plotting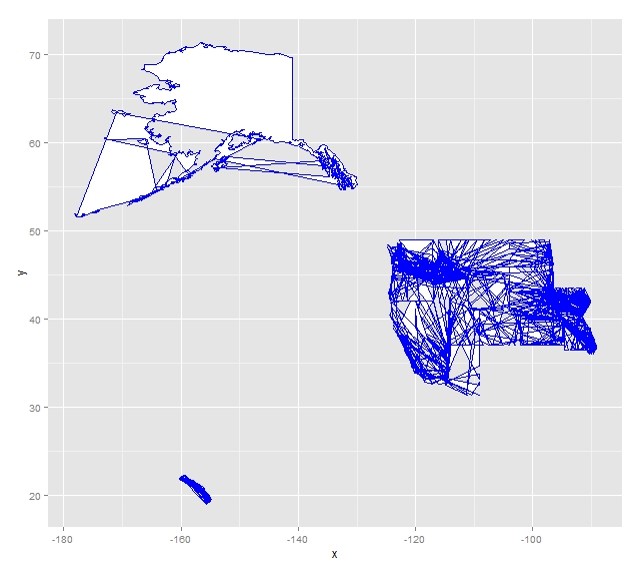 Troubleshooting
Typical sources of map graphic errors:
Graphic generator methods (e.g., `ggmap()` not recognizing variables provided by the base layer)
Data organization errors (e.g., ordering of vector points)
Projection mismatching (e.g., vector in WGS84 and data points in NAT83)
Resources
R packages: `ggplot2` and `ggmap` for graphing, `rgdal` for handling coded geospatial data, and `maps` for EDA
R code to generate the maps in this presentation, including loading and cleaning the data: ElizabethAB/mapping_in_r